Juicy Sex Stories Interview
Sex Blogger Molly
Molly's Daily Kiss is an intimate portrayal of Molly – a 40 something British woman. Molly uses words and powerful images to describe her sexual journey and relationship. Molly's blog is followed by thousands and thousands of people, mostly women, and includes reader content in sections like Sinful Sunday and the Pussy Pride Project.
We caught up with Molly to ask her about her blog.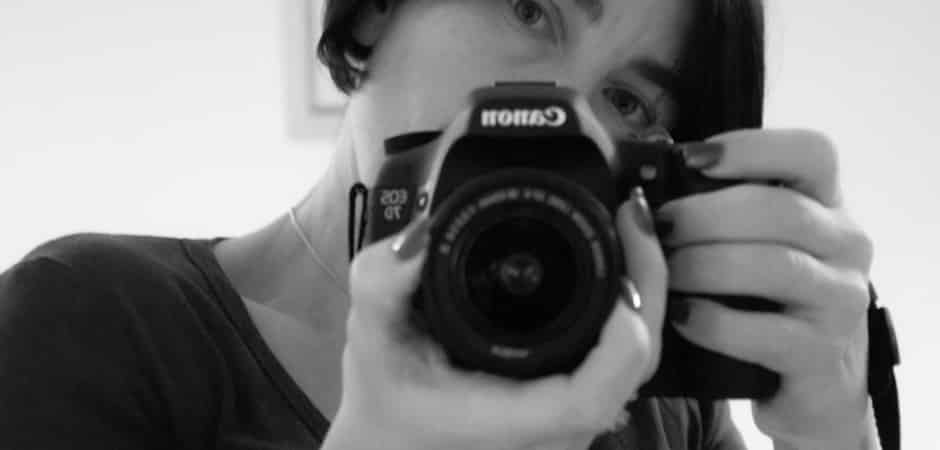 Your blog is very intimate, courageous and revealing. Why did you start it?
I guess when my first marriage ended and I started to unfreeze sexually I felt the desire to portray the changes in me. My blog is an honest and intimate diary of me and my sexual journey.
I also feel strongly that in mainstream media most erotic images are 'perfect' airbrushed photographs of women under 25. And of course those of us who have had a child know that once you've had a child, nothing is ever 'perfect' about your body again!
So I wanted to offer a space and a voice that says loud and clear that women can be in their 40s, 50s, 60s and beyond and still be incredibly sexy. Sure we have bumps, lumps, wrinkles and saggy bits but we're still sexually attractive. Sometimes even more so than when we were younger.
In my experience,and from chatting to my friends and readers, women over 40 often become far more sexually and physically confident with age. The vast majority of my readers are of a similar age to me and are exploring relationships and their sexuality. Much of the media presented to women of this age is about cooking, child rearing and gardening… I wanted to provide an alternative to that!
Also I always wanted to be a writer but I would start and never finish stories. So I started my blog was an act of self discipline – and calling it Molly's Daily Kiss was my 'grand idea' that I would write content every day.
And… it has actually worked out that way!
In the beginning, when I was first separated from my husband my writing was learning about myself.Then when I met my current partner, my writing became about our relationship.
Did you have a plan for how your blog would turn out?
Not really – I guess it's just evolved. At first I just wrote honestly and naturally about my new relationship and I was really excited when I got 10 visitors and readers. It then grew bit by bit as people found me, and now 4-5 years later I have more readers than I would ever have dreamed possible.
Your blog is very revealing. Have you ever been scared when you hit 'post' and intimate detail about you goes live?
Yes absolutely. There are many times where I've challenged myself and plucked up courage to write intimate details about myself. There are moments where I've felt very brave, for example the first time I wrote about period sex I wondered whether my readers would cope and whether they were going to react positively. But of course period sex is just a normal part of life and my readers commented positively about what I'd written.
You are a very prolific writer. How do you keep finding the creative energy?
I still absolutely love writing and there is just not enough time to write it all! As I have grown into the blog and become more knowledgeable, my subject matter has changed. I write about politics, porn filters and the events of adult world.
The way I have set my blog up also helps me to be disciplined. For example 'Wicked Wednesday' and 'Kink of the week' guide me to make sure I keep adding content.
But the real creativity and what continues to drive me the most is my photographs. When I need inspiration I go and look in my photograph folder and it jogs my memory about things I wanted to write about. My writing and photography really work together and keep me creative and inspired.
Tell us more about your photography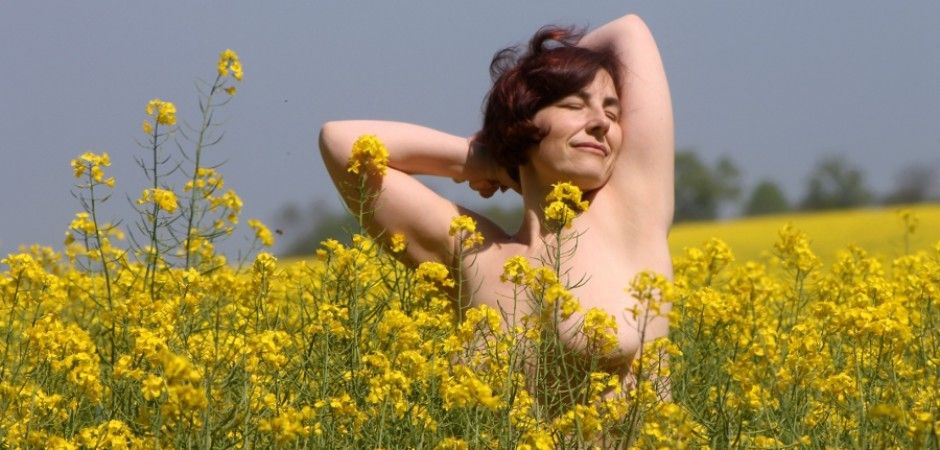 I guess it goes back to my original ideas about being open about who I am. I was inspired by a couple of other bloggers who were taking self-portraits, and before I knew it I was reaching for the camera.
Actually it's something I urge people to do. Once you have some self-portraits you can look at yourself and say
'Wow! Do I look like that?'
And before you ask… it's not like looking in the mirror. When you look at a photograph you step away from yourself and see and appreciate and love your body in a whole new way. For me it's also been about learning to love parts of my body.
I also love the outdoor stuff. In some ways this less about my body and more about placing it as an art form. I want people to wonder about the story behind the image and ask 'Why is she there?'
Do you have a favorite photo?
That's a really hard question. I must admit I do like this photo my husband took of me in Piccadilly Circus in London with 2 grumpy men in front of me. It never ceases to amaze me how closed people are to what is going on around them. They walk around with their eyes down and miss things that are going on around them. I also love the self portraits I take with a tripod – there are lots and lots of these – which I like best depends on my mood.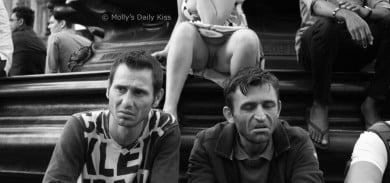 Have you ever got caught out when you're outside taking photos?
It's amazing how unobservant people are. They often walk right past and don't even notice me. Or if they do they look the other way as if they haven't seen me. I guess people are more tolerant of a coming across a naked woman in the woods than they would be if it was a man.
Why do you think your blog is so popular with so many?
I think it's a combination of a few things. I think people like the fact that I am honest about who I am and open about how I feel about things. Also I think the combination of words and images is incredibly powerful. The vast majority of my readership is female and although it is not spoken about… women get off on images as much as they do on words.
Also people are coming to read for that element of self-identity in themselves. So reading about a women being open and honest helps then to be able to be open and out about who they are. Because I don't blog anonymously I can speak at events and meet people in real life and this allows me to turn my blog into a career.
Can you tell us about the Pussy Pride Project? What do you think it achieves?
Pussy Pride was inspired by the Great Wall of Vagina and the rise of labioplasty. I wanted to provide information about the diverse beauty of the female genetalia in a written form – so people could have a conversation about it. My goal was to create a community where people could talk openly about the appearance of their pussy and not feel any anxiety about that.
The women (and men) who have posted are amazing and this section of my blog is turning into a great resource for people wanting to learn more and discover. Some of the content is challenging and some of the stories are not always positive but that's reality. I'm always looking for more content in this area and writers do not have to put their name to it – I will always post on their behalf if they want me to.
Have you got anything new coming up?
My latest project is my Anonymous blog. Everything on there is sent through submission forms with space for readers to write whatever they want. It does its own thing – there are sad posts and funny posts, posts about being the other woman, all sorts. Everything on there means something to the writer – I guess it's a kind of confessional.
If someone wanted to follow in your footsteps and start a blog how would you advise they start?
My biggest piece of advice would be don't do it on a free platform. The chances of you being successful are very limited and the company will eventually find you and take your work off.
Buy your domain name and find a host, which is happy to host adult content. HostGator is an example of a host which will host adult content.
Secondly become a member of the online community of adult writers and bloggers. Get involved, talk to other bloggers, comment on other people's work. Part of what I love about blogging is the friendly community and interesting, quirky and intelligent people I meet. I love to be part of the community.
Also think about how you are going to promote your blog. For example Twitter is a great way to promote your blog and make friends.
But most importantly… have fun. Write for you and what you want not for a perceived audience. I look at what is popular with my readers but I still write for me.
You can read Molly's Daily Kiss here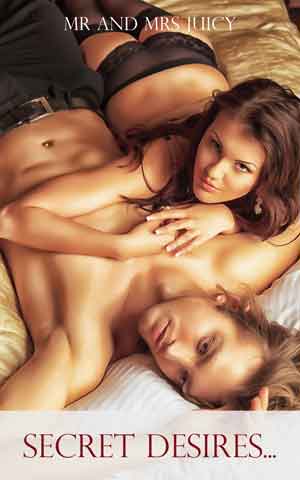 Erotica books - collections of naughty sex stories by our Juicy members. Get your erotica book featured here
Featured Members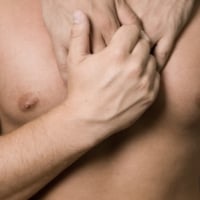 I believe I have reached half way through my life. made some great decisions and some dumb ones. I try…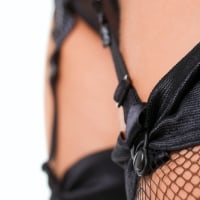 What can I say?... Gotta love sex. Makes me smile. Makes me shine. Know what I mean?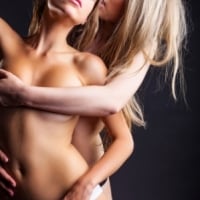 I've always been into girls for as long as I can remember. Love writing erotic stories and would love…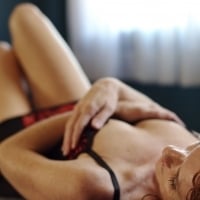 Published erotica author under the name of Jade Melisande; kink, sex & relationship blogger at KinkandPoly.com;…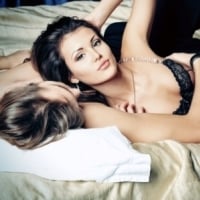 Why do I smile? Lots of sex that's why. If you get a lot of the good stuff you can't help but smile…
Featured Interviews